Partner Programmes:
Welcome to AngLo's Franchise Programme for Tamilnadu and other states.
Applications are invited from Professionals, Existing Institutions, Retired Teachers/Officers and Young Entrepreneurs who are interested to launch AngLo's FRANCHISE for providing One-2-One ENGLISH, IELTS and VOICE and ACCENT Training.
Welcome to AngLo's Franchise Program :
We appreciate your interest to become one of our Franchisees for the prestigious and ISO 9001:2008 Certified ONE-TO-ONE ENGLISH, IELTS and TOEFL Training Programmes of AngLo, Chennai.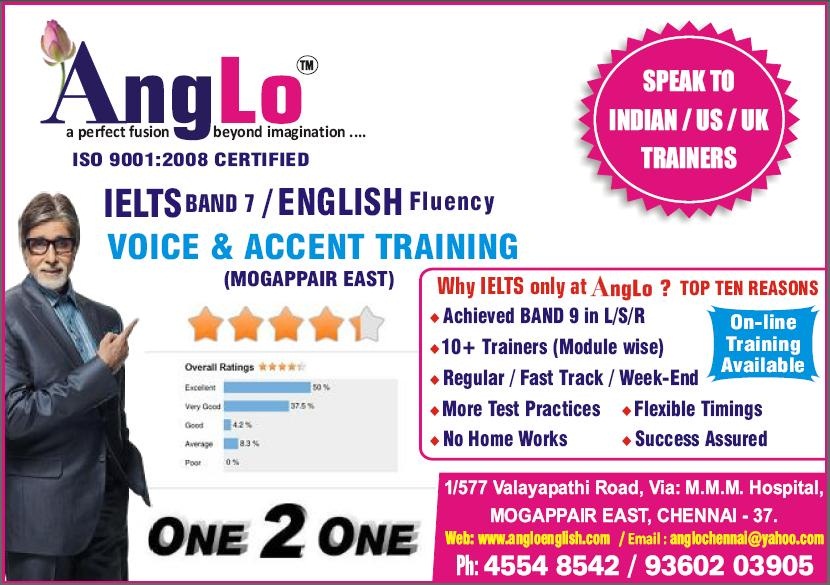 Mr. Janakiraman is seen receiving the "Viswa Jyothi" Award from the hands of Honorable Justice Thiru.Gnanaprakasam . The Award was issued for the achievement by The Peaks Magazine and National Integrity Cultural Academy at Chennai on 15.12.2013.

Objective :
To establish AngLo's One-to-One training centers in all cities and render service to the people who need quality and result oriented training in ENGLISH,IELTS and TOEFL.

*IELTS ( International English Language Testing System)
*TOEFL ( Test Of English as a Foreign Language)



Why it is required :
Since India is moving towards the second largest economy in the world, leading industries of developed and developing nations are keen in having close association or tie-up with emerging Indian companies. Having conditions to meet the world standard, many of the Indian companies are forced to hire candidates with commendable language ability.

Discussing the importance of English has become the story of the past. Everyone is in search of adequate and quality training from a reputed training center. It would be shocking when we see students from south Tamilnadu coming to Chennai just for this language training. AngLo has many such participants who are staying nearby taking rooms on monthly or daily rental basis costing them more than what they spend for the course fee. Compared to male, female participants are fewer who are hardly sent to cities. Hence, understanding the need of this style of training everywhere in the state especially in Chennai AngLo has planned to launch this most awaited FRANCHISE programme now.

About AngLo :
AngLo is a center for ONE-TO-ONE IELTS, ENGLISH, TOEFL and Vioce & Accent Training. The most effective and interesting way of learning is practiced at AngLo ENGLISH an ISO 9001 : 2008 Certified center in Chennai. One-to-one training at participant's convenient timing is the highlight of the center be it IELTS,TOEFL,ENGLISH or Accent Training. Speaking Faculty (online) from UK & USA for real time accent training. Our module wise best score in IELTS is 9 out of 9 in Reading, 9 out of 9 in Listening,9 out of 9 in Speaking and our over all score is 8 out of 9 and our TOEFL iBT Score is 107/120. Having separate and smart trainers for various activities AngLo follows a unique system of training and goes all out to bring SUCCESS to all its participants. AngLo extends training for the participants of other countries also. So distance never matters, yes, it's truly worldwide. AngLo follows internationally recognized Training Methodology one-to-one system to help participants learn the language at their own pace and understanding level, the training is imparted both online and regular streams at one's desired timing best using the latest online tools like SKYPE,WEBEX,GP,GM etc.

AngLo's vision : " Empowering young Indians through effective Communication ".

AngLo's Advantages : One-to-one Training, Native Speakers from the UK and USA for effective Speaking (online). Experienced Trainers for One-2-One training, Flexible Timing, Comfortable Environment and No Home work. AngLo has become the most preferred and the best rated among English and IELTS aspirants (Please refer Online Feedback).

Strengths of AngLo :
Obtained ISO 9001 : 2008 Certification for the Standard of Training
AngLo is headed by R.Janakiraman who has 20+ years of institutional and Training experience
Has become British Council Agent to assist candidates in IELTS Test Registration
Authorized Agent to IDP Education Australia for providing information and registration services to IELTS aspirants
Produced World class scores in

IELTS : 9 out of 9 in Reading, Listening and Speaking, and 8 out of 9 in Writing.
TOEFL : 107 out of 120

Attracting students from all over Chennai, other districts, states and countries too by its effective one-to-one training system under both Regular and Online streams
Carefully designed effective packages for all users of English
Experienced Indian and Anglo-Indian trainers are readily made available for the participants to be flexible with their timing
Native speakers of English speaking countries have been associated for live online speaking with our participants
Always focusing on quality, novelty and honesty.
Requirements to setup AngLo in your area :
500 to 1000 sqft. space (preferably hall type on main road at 1st or 2nd floor)
5 Mega size Nilkamal Tables
20 Nilkamal Chairs (square type without arms)
One Latest Desktop Computer with Broadband connection
1 set of speakers and 5 headphones with mic lid
Minimum 3 Trainers : 1 for grammar, 1 for writing and 1 for speaking training. For effective training, trainers may be appointed on Part Time basis for 4 hours.

* Complete materials and CDs, online support will be provided by AngLo for the smooth running of your business.

Proposed Center groups and fee for the Franchise :

| Center Group | Courses | Franchise Fee |
| --- | --- | --- |
| 'A' | ENGLISH and IELTS ( for Cities ) | Rs. 2.5 Lacs |
| 'B' | ENGLISH and IELTS ( for Urban areas) | Rs. 2 Lacs |
| 'C' | ENGLISH (for semi Urban or Rural areas ) | Rs. 1,50,000 /- |


Note : Franchise Fee includes Training for Trainers(upto 4 Nos.) and Master Materials. Franchise Fee is refundable according to refund policy after the deduction of training and master mterials fees.



There is no fixed monthly fee.You pay only on every enrollment from your business since you would enjoy the privileges of AngLo : Getting regular referals through Justdial,Brand value, being in a network, getting traffic driven from AngLo's website,Mobile SMS and IVR Service to Students etc.

Monthly Fee to be paid to AngLo :

Center Group Monthly fee

'A' ( Cities) Rs.1000/-(for the first year, may vary from 2nd year)
'B' ( Urban) Rs.1000/- (for the first year, may vary from 2nd year)
'C' ( Semi-urban) Rs.750/- (for the first year, may vary from 2nd year)






Join hands with AngLo ! Sign up for AngLo's Franchise in your city!!
Wish you all the Best !!!

For more information:

Contact: 9360203905 / 044 45548542





IDP IELTS Australia
Authorised IELTS Test Registration Centre (Agent) for
IDP Education Australia.

Website : www.ieltsidpindia.com
For Registration Contact AngLo.
------------------------------------------------------------------------------------------------------
British Council
Agent for IELTS Test Registration with
BRITISH COUNCIL both online and offline.

Website : www.britishcouncil.org
For Registration Contact AngLo.
---------------------------------------------------------------------------------------------------
ETS ( Examination Testing Services)
TOEFL Resource Centre.


Website : www.ets.org/toefl
For Registration Contact AngLo.
---------------------------------------------------------------------------------------------------------
Our Associate for your Educational and Immigration Support
(Australia,UK, New Zealand...)
For more information Contact AngLo.
----------------------------------------------------------------------------------------------------------
To avail our assistance for the successful placement in Domestic and International BPOs and MNCs....
Contact : at 044-45548542